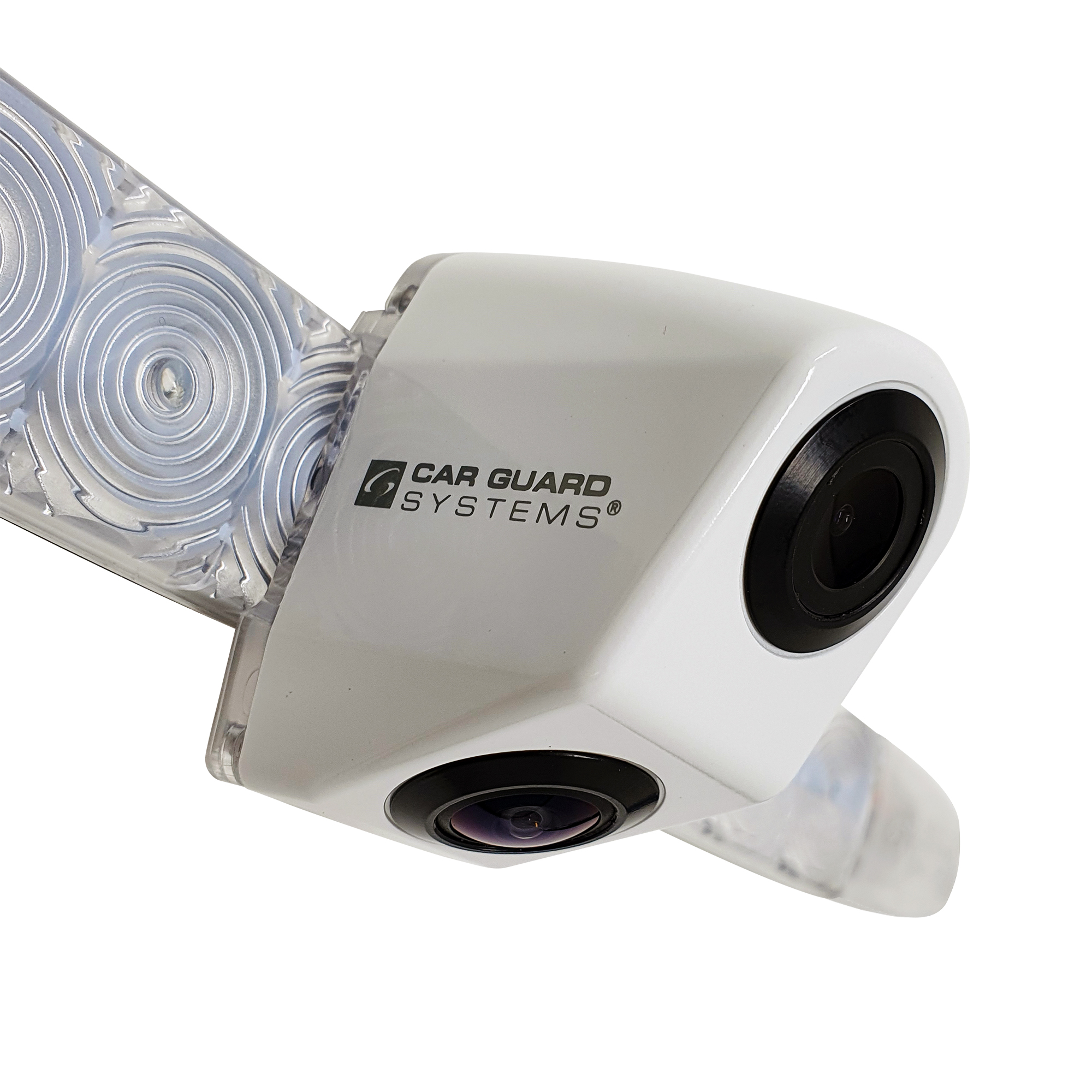 RAV-DB2 double rear view camera with 3rd brake light, 700TVL, for navigation systems, moniceivers and monitors with 2 camera inputs, for vehicles with camera pre-equipment
---
Ready for shipping, delivery in 48h
---
Color rear view camera as parking aid and to observe the rear traffic
CARGUARD REAR ANGEL VIEW ™ RAV-DB2 double rear view camera with 3. Brake light, 700TVL, 9-14V
Only for navis, moniceivers and monitors with 2 camera inputs, for vehicles with camera upgrade (camera cable with 6 pin screw connector)
Not for mobile navigation systems (switch box required)
Feature description:
You can upgrade navis, moniceivers and monitors with 2 camera inputs from numerous manufacturers to a full-fledged reversing video system with our high-quality reversing cameras, or opt for a more attractively priced package consisting of our fixed-mount navigation system or a reversing monitor and a reversing camera of your choice.
You can mount this universal 3rd brake light with integrated dual rear view camera on the rear wall of any motorhome or camper. It can also be used to replace a standard Hella- brake light. It is identical in construction to the Hella model 2DA 343 106-201.
The control panel of the naviceiver or monitor allows you to turn the rear-facing camera on and off. The camera acts as a rearview mirror and can be turned on while driving. As soon as you put the car in reverse gear, the screen will also switch to the downward-facing camera.
Device information: 
Constructed according to IP69K protection class, the highest protection standard for components on vehicles
Protection against water in high-pressure cleaners
Protection against continuous submersion
Protection against foreign objects: Absolutely dustproof
Protection against contact and shock 
A high-quality, unobtrusive housing ensures a perfect appearance, which harmonizes well with all types of vehicles
Image sensor: 1/3 inch Sony CCD, model no. 810
Light sensitivity 0.1 lux
The high light sensitivity of the outstanding image sensor, together with the back-up light, ensures excellent night vision
Excellent resolution: 610,000 pixels with 700 TV lines
Waterproof screw connections 
Vibration resistant up to 8G
Automatic backlight compensation
Automatic brightness u. White balance
anti-fog lotus coating
focal length camera 1: 1.8 mm, F 2.0
focal length camera 2: 2.8 mm, F 5.5
170° angle of view for close range and 95° for long range
At the rear of the vehicle, no power connection for the cameras is necessary
Noise ratio: > 48 dB with automatic gain control
Video signal output: 1 Vp-p, 75 Ohm
Power supply: DC 9-14 V
Power consumption: < 2.0 W per camera
Dynamic range: 120 dB
Operating temperature range: -30° C to 70° C
Stand temperature range: -40° C to 80° C
Electronic shutter speed: 1/50 (PAL) ~ 1/100. 000 s
Near distance lens detection range: 110° (vertical) / 150° (horizontal) / 170° (diagonal)
Far distance lens detection range: 60° (vertical) / 75° (horizontal) / 95° (diagonal)
Product dimensions and weight:
Length: 280 mm
Width: 26 mm
Height: 10 mm (brake light housing)
Weight: 135 g
Logistics:
EAN: 4260456384901
Packing length: 355 mm
Packaging width: 120 mm
Packaging height: 70 mm
Packaging weight 415 g
Certificates:
CE
E-Mark
IP69K waterproof and dust resistance test (for high pressure/steam jet cleaning, specific for road vehicles)
Salt vapor test certificate
RoHS
Scope of supply:
1x double rear view camera with 3. Brake light (9-14V)
1x adapter, from 2x 4 pin mini connector to 6 pin screw connector
1x adapter, from 6 pin screw connector to 2x RCA and power supply
1x installation and operating instructions
2x mounting screws
1x double-sided mounting tape
| | |
| --- | --- |
| Item ID | 1289 |
| Manufacturer | CAR GUARD SYSTEMS |
| Content | 1 piece |
---