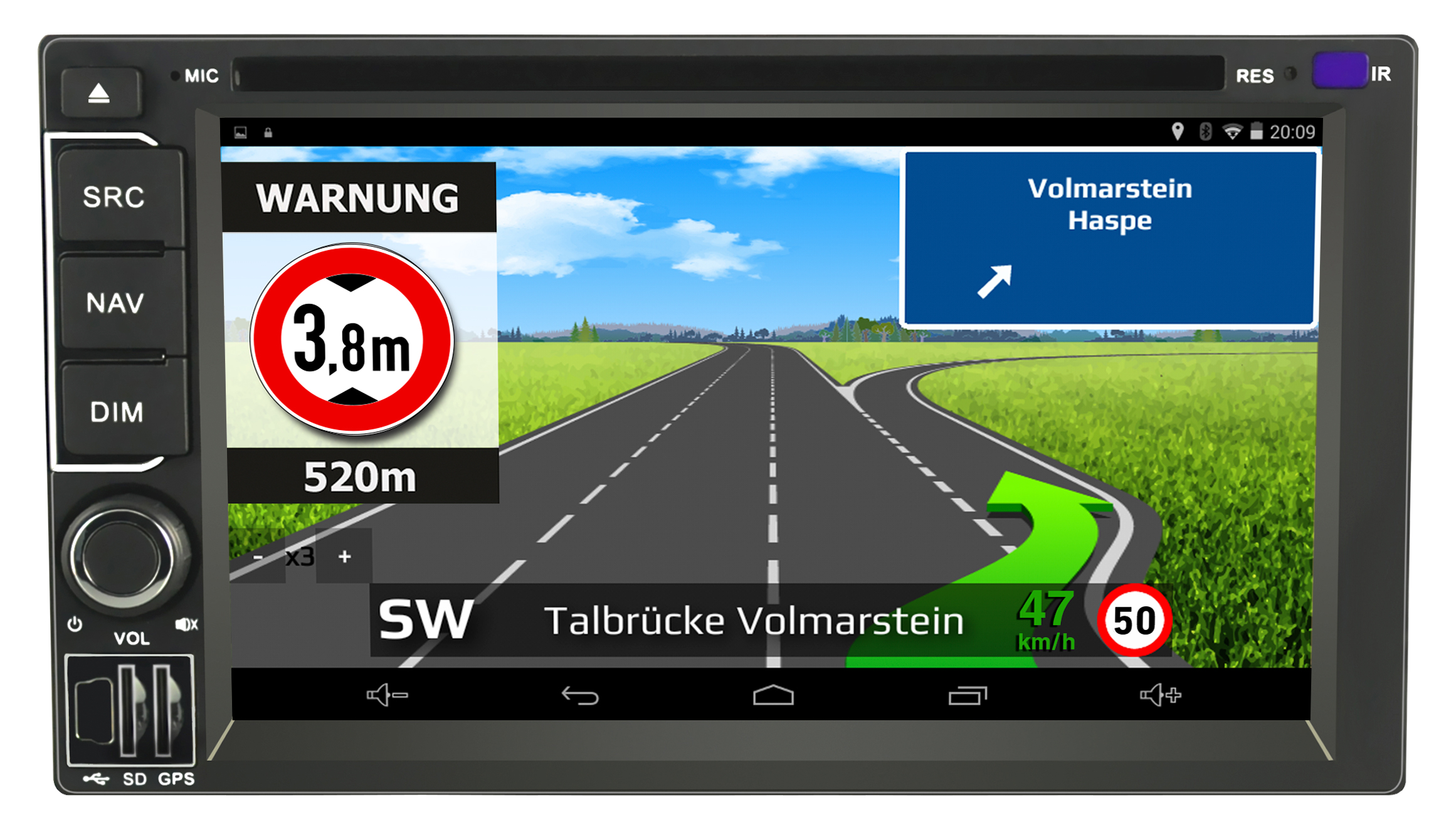 Professional 2-DIN fixed installation Android navigation system for trucks
IntelliRoute TR9100DAB Multimedia 2DIN built-in device with DVD player, DAB+ digital radio, rear view camera connection, Internet access, and Android app expansion capabilities:
Advantages over truck or car GPS:
IntelliRoute creates a route based on the properties of your vehicle. Just specify the size, weight and emissions class to the device and the specialised software calculates a safe, mobile home-friendly route. The routes are calculated using roads with sufficient width and height, while avoiding low bridges, weight restrictions and many other obstacles
Google Playstore
In the Google Play store, you can freely download apps via WiFi according to your preferences and enjoy additional features on your IntelliRoute Android navigation system.
Functional description:
Route guidance taking into account vehicle size (height, width, length), weight, type of truck (with/without/type of trailer), prohibition of trucks, prohibition of trailers, turning prohibition, prohibited types of cargo, hazards (ascents, descents, bends, crosswinds, bumps, schools), tunnel restrictions, and environmental zones.
Route warnings are also displayed without entering a destination!
Free lifelong Here Global™ map updates for 47 countries (36 with truck-specific navigation)
Here Global™ map updates via WiFi (no computer required)
Integrated WiFi
Internet access*
Google™ language search
Android operating system with Google™ Play store
any apps from the Play store can be used
active lane assistant for near and far range (lane guidance)
3D junction views
The forecasts for arrival times can be adjusted depending on the vehicle (± 25%)
Gradients can be avoided on request (between 9% and 20% can be selected)
Multi-routing – 7 tours with up to 16 intermediate destinations each can be stored (manual or automatic sequence)
Destination guidance by entering GPS coordinates (3 different input options selectable)
Truck-specific POIs such as truck parking lots, truck filling stations, truck workshops, snack bars, and toilets (POIs can be imported)
Over 2 million POIs (with phone numbers) and search along the route – also csv file importable (e.g. from Excel)
Free on-line live congestion (mobile internet access/WiFi required, consumes max. 400 MB/month*)
Truck-specific radar sites
Map view: 2D view and 3D view
Storage option for your favourites
Truck and optional car mode
Continued calculation in tunnels
Navigate to POI symbols or a Federal Autobahn exit on the map
Legal vehicle-specific speed warning system
Device information:
CD/DVD player: WMV (VC1 Code), AVI (H.264, MPEG4, Xvid, WMV), MP4 (H.263, H.264, MPEG4), MPG (MPEG-2), M4V (H.264, MPEG4)
DAB+ digital radio
FM/AM RDS radio
Integrated MP3 and media video player 
32 GB internal memory for apps, music, and videos (SD/MMC/SDHC/HDD Music,Movie Playback)
USB 2.0 (MP3 player, music, movie playback)
Bluetooth® A2DP music streaming
Bluetooth® hands-free kit with phone book function, name search, and call information
built-in and external microphone
Working memory: 4 GB RAM 4GB RAM
Excellent screen readability from all viewing angles
Automatic detection of video input symbols
Rear view camera cable 2.5 mm jack on RCA
Mirror link: mobile phone functions can be operated via the navigation screen
Bluetooth® connection to external speaker
6" capacitive Touchscreen display
screen resolution: 800 × 480 pixels
Bluetooth® Version 4.0
1080P HD video output with True Colour 24 HD playback
AV input: connector for external video sources, 2 channel audio and 1 channel video
AV output: 4.1 channel audio and 2 channel video (for connecting additional screens and cinema sound)
Built-in amplifier (4 × 50 W output power))
EQ mode: standard, custom, pop, rock, classic
Connection for factory steering wheel remote control (optional for Fiat, Ford, Mercedes, VW etc.)
Processor (CPU): Octa-Core 64 bit PX5 Cortex-A53 1.5GHZ
Unit size: 177x180x100 mm, 1890 g
Package size approx: 450x250x185 mm, 3345 g
Lifetime Here™ card updates worth € 249 free of charge
Delivery:
2-DIN fixed built-in device
external DAB+ digital radio tuner
external DAB+ antenna
external microphone
external GPS antenna
2 × USB cable extension
Mounting bezel
2 × wiring harness power supply
1 × multimedia cable harness
User manual (on memory card)
Optional accessories:
vehicle-specific mounting frame
Colour rear view cameras;
1080p HD-Dashcam - DVR accident trip recorder
DVB-T2 Television
Steering wheel remote control module
Tyre pressure warning system
*Smart phone/tablet and/or mobile Internet access or WiFi required, Live Traffic Service consumes only 400 MB if used 8 h a day/20 days a month.
---
Common functions on all Intelliroute models
---
IntelliRoute has the answer
This unique software creates a route based on the characteristics of your vehicle. Simply tell the device the vehicle's size, weight, load type, emissions class and tunnel category (if applicable) and the specialised software will calculate a safe, lorry-friendly route. The routes are calculated using roads with sufficient width and height, while avoiding low bridges, weight restrictions and many other obstacles. The route warnings are provided even if no travel destination has been entered!
Input and consideration of vehicle-specific data for up to 10 different vehicles:
Restrictions that are taken into account for the route calculation:
Height
Width
Length
Weight
Weight per axle
No lorries allowed
No trailers allowed (i.e. to avoid roads where vehicles with trailers are prohibited)
Low-emissions zones
No turnaround options for lorries
No right turns for lorries
No left turns for lorries
Lorries with hazardous materials prohibited
Lorries with water-polluting cargo prohibited
Warnings that make your travel safer:
Steep ascent ahead
Steep descent ahead
Tight curve ahead
Crosswinds
Bumps
Schools
Pedestrian zones
Input and consideration of vehicle-specific data for up to 10 different vehicles:
Trailer type:
Lorry without trailer
Lorry with 1 trailer
Lorry with 2 trailers
Lorry with 3 or more trailers
No trailers allowed (i.e. to avoid roads where vehicles with trailers are prohibited)
Semi-trailer lorry or tractor with one or more trailers
Load type:
Lorry without trailer
None (normal)
Hazardous materials
Explosive and flammable
Harmful to water
ADR tunnel code:
None
Unknown
B
B/D
C
C/D
D
E
B1000C
B/E
C5000D
C/E
D/E
Here Global™ road maps of 47 countries, 36 of them with special lorry navigation:
36 countries with specific road attributes for lorries and other large vehicles:
Albania, Austria, Belgium, Bosnia and Herzegovina, Bulgaria, the Czech Republic, Croatia, Denmark, Estonia, Finland, France, Germany, Greece, Ireland, Italy, Hungary, Latvia, Liechtenstein, Lithuania, Luxembourg, Macedonia, Montenegro, the Netherlands, Norway, Poland, Portugal, Romania, Russia, Sweden, Switzerland, Serbia, Slovakia, Slovenia, Spain, Turkey, and the United Kingdom.
Road coverage of 47 countries in total:
Andorra, Albania, Austria, the Azores, Belarus, Belgium, Bosnia and Herzegovina, Bulgaria, the Czech Republic, Croatia, Cyprus, Denmark, Estonia, Finland, France, Germany, Gibraltar, Greece, Hungary , Ireland, Italy, Kosovo, Latvia, Liechtenstein, Lithuania, Luxembourg, Macedonia, Moldova, Monaco, Montenegro, the Netherlands, Norway, Poland, Portugal, Romania, Russia, San Marino, Sweden, Switzerland, Serbia, Slovakia, Slovenia, Spain + the Canary Islands, Turkey, Ukraine, Vatican City, and the United Kingdom.
Free lifetime map updates over WiFi from HERE Global™ worth €159.00 incl. VAT with the purchase of the navigation system!
First released in 2008, the navigation systems offered by Car Guard Systems were the first mobile navigation systems designed specifically for the needs of lorries and large commercial vehicles.
3-D junction views
All important motorway junctions and exits are shown enlarged to help you navigate your route and reach your destination even more safely.
Two lane assistants:
Active lane guidance for predictive support, Lane Assistant Pro for the immediate vicinity. With the lane assistants, drivers no longer have to think about which lane you should use or which lane leads to which exit, this task is handled by the navigation system.
For individualists:
Guidance can be provided by entering the GPS coordinates (3 different input formats are available).
The latest map updates guaranteed
After registration and initial GPS contact, you will always have the option to receive the latest Here Global™ maps for free.
Free lifetime Here Global™ map updates via WiFi
IntelliRoute always offers you the latest maps worth €159 incl. VAT (mobile navigation systems) or €249 incl. VAT (built-in systems) free of charge; you can download the updates via a WiFi connection (no computer required).
Advanced road maps
IntelliRoute uses high-quality digital maps from Here Global™, the market leader. Routes can be calculated using postal codes, street names, and places of interest, and even by simply entering a city, a location, GPS coordinates, a route with several intermediate stops, or by selecting a destination directly on the map.
Lorry-specific radar device locations
Unlike other navigation devices, our navigation systems show you the speed limits that are applicable specifically to your vehicle size and class. In addition, IntelliRoute allows you to update the SpeedShield™ database radar database free of charge 24 hours a day, 365 days a year.
While many traditional navigation systems with radar warning devices only provide updates every 3 or 4 months, our dedicated radar data acquisition team updates the database on a daily basis, so that you can download the update the very second when a new radar device is added. Car Guard Systems IntelliRoute will take you from A to B effortlessly, all the while ensuring that your driving licence is not jeopardised.
Extended warnings for:
speed cameras
traffic light cameras
average speed measuring devices
construction site cameras
toll cameras
accident hotspots
hazardous areas
Enter destination addresses by voice
If you wish to change your destination while driving, you can keep your hands on the wheel and set the destination comfortably by voice.
Day & night mode
The screen brightness for the day & night modes can be adjusted via the menu. The night mode darkens the map view so that you are not blinded.
Map view
You can choose between 2-D and 3-D for the map view.
Save favourites
Personal destinations can be saved via the menu. These can be set as the current destination at any time. The favourites are shown as symbols in the map view.
Continued calculation in tunnels
If the GPS reception is disturbed in a tunnel, an exact route simulation is carried out.
Over two million places of interest in Europe (many with phone numbers)
Lorry-specific places of interest, featuring rest stops, petrol stations for lorries, more detailed information about conventional petrol stations, lorry maintenance options, accepted payment cards and the availability of diesel pumps. In addition to this extensive POI list, you will find information on many hotels, restaurants, petrol stations, radars, parking spaces with overnight accommodation, ATMs, airports, train stations, shops and much more. You can reach your desired destination at the push of a button. Your own POI favourites can be imported easily as a csv file.
Find POIs along the route
Make your choices from our extensive list of POIs and have them displayed within a radius of about 2 km along your calculated route.
Vehicle-specific arrival times
You can adjust the calculated time of arrival based on your travelling speed in order to get more accurate predictions. You can reset the time calculation by plus or minus 25%.
Avoid uphill or downhill gradients
You can specify whether the routes should be calculated to avoid unwanted uphill or downhill gradients. To do this, you can set any value between 9% and 20% and exclude the corresponding uphill or downhill gradients from the calculation.
Upgrade your equipment to your heart's content
In the Google™ Play Store, you can freely download apps via WiFi and enjoy countless additional features on your Android-based navigation system.
Here are a few suggestions:
Lorry parking spaces in Europe
Find or reserve one of more than 10,000 parking spaces on your route according to your desired facilities. This database is continuously evaluated and supplemented by the community.
Tyre pressure warning system
Up to 10% less fuel consumption, up to 35% longer tyre life, reduced risk of accidents, fits every tyre valve.
Play games
Play any game of your choice while taking a break from the road.
Places of interest
You can import your own POI lists and use them on your trip.
Skype™ telephony
Make international calls with friends or groups on mobile networks or landlines. Moreover, HD video and voice calls to Skype users are free of charge.
Load securing
Have the software calculate the required force and the minimum number of tie-downs.
Transport route planning
Optimise your logistics management, create station lists and comprehensive route profiles.
Refuel at a cheaper price
Find the cheapest petrol station in the area, with an alert for your desired price and a price prediction.
Warehouses and freight exchanges
Find free storage areas and freights on your route and avoid costly empty runs.
Google™ Calendar
Synchronise your PC, mobile phone and navigation system calendars (or those of all your friends) and constantly stay up-to-date.
Live traffic reports
More than 50 million road users help each other with information about traffic jams, construction sites, closures, etc. All of this in real time!
Driving times and rest periods
A tachograph and a logbook for avoiding fines and for maximizing your driving time.
E-mail for Outlook and other programs
View, read and respond to e-mails, send photos, add and view attachments.
Auto Club assistance in foreign countries
In the event of breakdowns, accidents, illness or legal issues, you have access to country-specific information for more than 50 destination countries.
Fuel consumption monitoring
The app records routes and documents each tank of fuel and calculates the consumption. The perfect driver's logbook.
Car sharing
Find the closest available vehicle near you.
Find a taxi quickly
Plan your trips in advance, submit special requests and pay with this app.
Optimise your driving behaviour
Improve your driving style, drive safer while saving fuel.
Parking assistant
Where is my car? Where can I find a parking space? Where can friends coming for a visit park their vehicle?
Toilet search
Find the nearest WC. Thanks to the community, toilets are also rated in terms of cleanliness.
Multiple-destination route calculation (multi-routing)
An elegant design has always been a key feature of Car Guard Systems' navigation systems. But they don't just look good on the outside - you can always count on them to deliver the expected performance. For example, let's take a look at our new and unique multiple-destination route planning software. Multiple-destination routes enable you to calculate a single route with up to 16 different destinations by simply adding the addresses. You do not have to stop and restart the device and laboriously search for each individual address. You can now easily calculate all destinations for the day, change their order at any time, and add new destinations or delete existing ones. It is possible to configure up to eight travel routes with several successive destinations.
If you wish, you can even have the software calculate the shortest path and the most sensible sequence of route stages automatically. You can select route options for each individual intermediate destination. At each stop, you can view the intermediate destination on the map along with the associated time and distances.
Lorry mode and optional car mode
Although IntelliRoute was specifically designed to guide lorries and other large vehicles on safe and approved roads, the product also has a car setting. Just switch the navigation system to car mode and you will be guided to your destination using the best possible route for your car. Since the navigation system is offered as a mobile version, it can be moved easily between different vehicles. This means that you get two navigation systems in one package!
Connection for the vehicle loudspeakers
For the playback of music, video and navigation announcements (included with the TR9100 model / the radio-voice output amplifier module is required for the TR8050, TR8020, TR7000 and TR6000 models).
Free online traffic jam bypass
If you drive professionally, you know how important it is to be well-informed about what to expect on the road.
Accurate and reliable information is a must to ensure that you show up in time for your appointments.  Traffic information is fed into the system from hundreds of thousands of vehicles and sensors across Europe, which makes it very up-to-date.
The IntelliRoute Traffic Jam Service warns you about all traffic incidents in the country and lists them in order of their distance from your current location or alphabetically. In addition to this overview, you can also monitor traffic incidents that are on the route that you have programmed into the system. And if there is a traffic jam on your route, you can simply have the navigation system automatically calculate a route (with an alternative route) that bypasses it.
Smartphone / tablet and / or mobile internet or wifi required. Live Traffic Service consumes only 400 MB if used 8 hours a day / 20 days a month.
Intelligent route calculation
The route calculation is performed based on the route characteristics (e.g. steep gradients), the vehicle speed, the vehicle dimensions, the vehicle type, Vehicle load and purpose etc.
Navigating according to POI symbols or motorway exit numbers on the map
Search for and find your destination based on our POI symbols or the highway exit numbers using our Map Search function.
Legal speed warning
Your navigation system displays the permitted maximum speed on almost all roads throughout Europe. The value for the desired speed deviation after which a warning will be issued can be selected freely by the user.
Useful settings
In the "GPS" menu you can view the current GPS coordinates and the altitude above sea level.
Built-in dash cam: your evidence, just in case! Your accident black box:
(except for TR7000, optional with TR9100DAB and TR9100DABFD)
---
Dashcam videos are now allowed as evidence in court.
---
Recording of full HD video, GPS coordinates, date, time, speed & sound
In an accident that wasn't your fault? Wouldn't it great if you had a video of what happened?
Have you ever received a ticket for tailgating a vehicle because a vehicle cut in front of you while overtaking?
Now you can use the IntelliRoute Driving Recorder to automatically record accidents and other events that you inadvertently find yourself in in crystal-clear, full HD 1080p quality. IntelliRoute offers you safety, peace of mind and the option to potentially save a lot of money!
You can be sure, at all times, that you will receive all the necessary video evidence for any potential events or any accidents that were not caused by you. This will prevent the increase of your no-claims discount and your vehicle insurance premium.
Compact, stylish and incredibly effective!
IntelliRoute is designed to record crisp and clear, high-definition 1080p videos in full HD quality from your route during the day and at night. IntelliRoute permanently records the road ahead of you via GPS and the high-precision mini camera. Each event is automatically recorded, stored on the included 8 GB micro SD card (expandable up to 32 GB) and can be viewed at any time.
GPS technology
IntelliRoute does not just record an event, it also stores it along with the exact GPS coordinates, date, time, sound and current speed at the time! In this way, you can always know where your lorry was travelling and exactly where a recorded event took place.
Integrated 3-axis impact sensor
Dangerous events are detected by the 3-axis impact sensor. These are automatically cut out of the video material and stored in a separate folder which cannot be overwritten.
24-hour day and night mode
IntelliRoute is equipped with a highly sophisticated full HD video camera that produces incredibly sharp images day and night - ensuring reliable 24/7 recordings!
Reliability
IntelliRoute automatically detects full cards and overwrites the oldest data first.
---
A hearty welcome! Thank you for your interest in our products!
Car Guard Systems GmbH was founded in Dortmund in 1994 and is a manufacturer and distributor specializing in navigation systems for the lorry, bus and caravan market. Reversing camera systems for commercial vehicles, construction machines, cranes, forklifts, ships, emergency vehicles, agricultural machines, airport vehicles, industrial cranes and buses, electronic vehicle accessories, car alarm systems, tracking systems. The Snooper, Cobra, Truckmate, Bus & Coach and Ventura brands are distributed exclusively under the umbrella of Car Guard Systems GmbH in Germany, Austria, Switzerland and the Netherlands. The company's own brands include Pentagon, Defender and the innovative, Android-based IntelliRoute navigation systems.
Our brands are available throughout Europe. With over 25 years of experience in the sales and manufacturing of vehicle alarm systems, reversing camera systems and navigation devices for lorries, buses and caravans, we have developed a close and successful business relationship in aftermarket services with several renowned vehicle manufacturers.
Our products are offered by all renowned sales organisations in B2B trade and by customer-oriented specialist retailers in B2C trade. At our company, both commercial and private customers have access to competent contact persons for all topics relating to our products.
---
Errors and changes excepted. Status as of 12 September 2019
| | |
| --- | --- |
| Item ID | 1183 |
| Manufacturer | CAR GUARD SYSTEMS |
| Content | 1 piece |
---