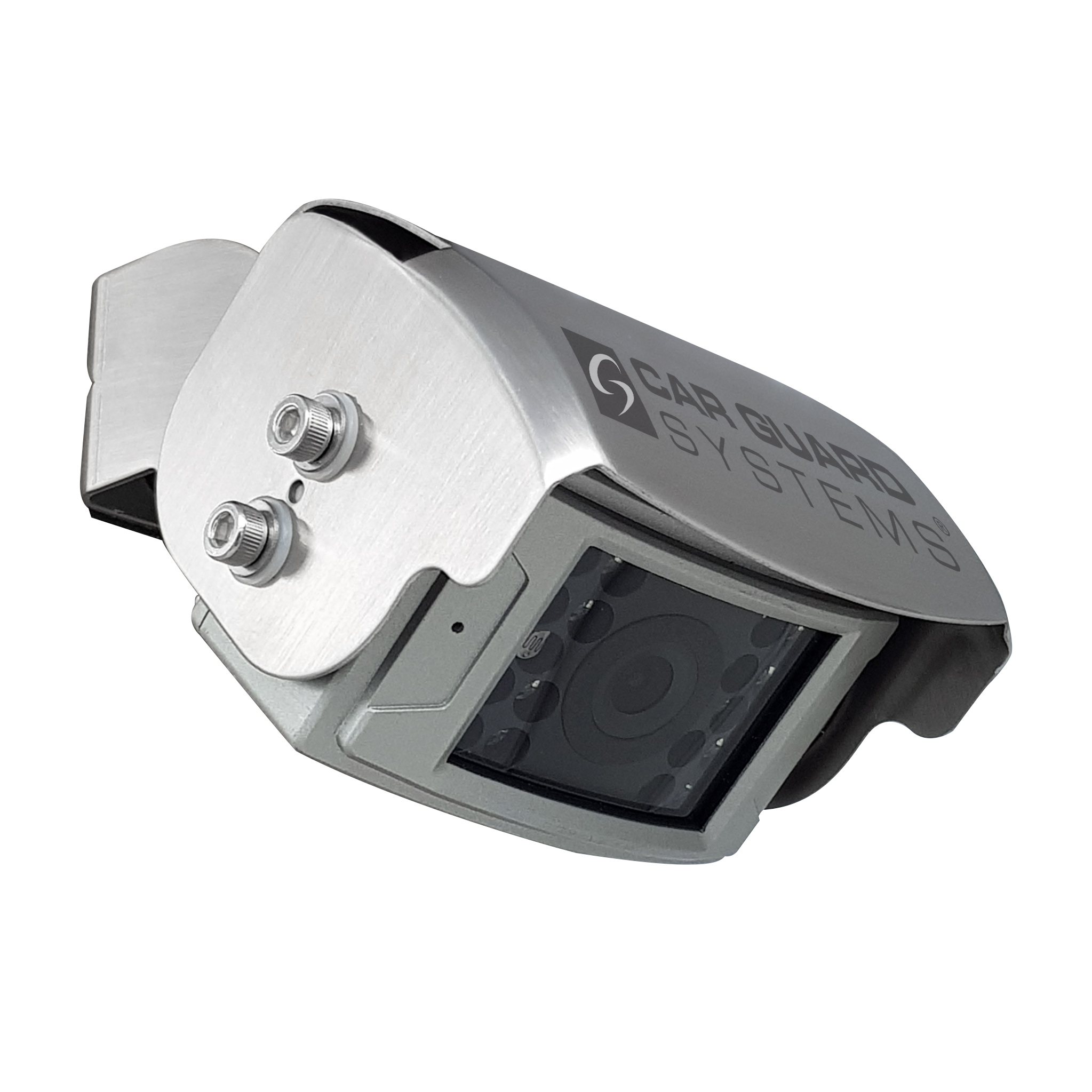 Colour rear view camera as a parking aid and for monitoring the traffic behind you
CARGUARD REAR ANGEL VIEW ™ RAV-F Rear View Camera, Full HD for AHD monitors, 115°, silver, 9-32V, PAL
This 1080p camera is compatible with AHD, HD and Full HD monitors only, such as our RAV-MO 7HD, RAV-MO 7WHD, RAV-MO 7QHD and RAV-MO 9HD models.
Feature description:
With our extremely high-quality and durable reversing cameras, you can upgrade monitors from numerous manufacturers to a fully-fledged reversing video system. You can get the right adapter for almost any monitor model.
The camera image is displayed on the screen as soon as reverse gear is engaged. For the use of several cameras, we offer various monitors individually tailored to your needs.
The sophisticated monitor adapter is available for almost every monitor model.
The ingenious design allows any installation position: overhead on the ceiling, on the wall or on the floor. The camera connection cable can be installed invisibly and absolutely waterproof.
Device information: 
Excellent resolution: 2,080,000 pixels with 1080 TV lines
Power supply: DC 9-32V +/- 10%
Lens coverage: 70° (vertical) / 95° (horizontal) 115° (diagonal)
Constructed to IP69K, the highest protection standard for components on vehicles
Protection against water from high-pressure cleaners
Protection against continuous submersion
Protection against foreign bodies: absolutely dust-tight
Protection against contact and shock
The powder-coated silver die-cast aluminium housing is additionally protected by a corrosion-free sunshield and a 2 mm thick, torsion-resistant stainless steel mounting base
Extremely resistant to branches, high-pressure cleaners, storms, dirt, winter weather and rain
Waterproof screw connections
Image sensor size 1080p: 1/3 inch Sony MIX 225
Fast real-time image transmission
17 highest quality infrared LEDs guarantee a very good image even in the dark
Night vision up to 12 m
Light sensitivity: 0 lux (with IR at night), 0.1 lux (during the day)
Vibration-proof up to 15G
shockproof up to 100G
Built-in microphone
Heating against condensation: active below 10° Celsius
automatic backlight compensation
Automatic brightness and white balance
TV system: PAL (NTSC available on request)
Antifog lotus coating
Focal length: f= 3.5 mm
Sensor detection range: 4.9 mm (H) x 3.7 mm (V)
Power consumption: < 2.5 W
No voltage connection necessary at the rear of the vehicle
Video signal output: 1 Vp-p, 75 Ohm
Current consumption in operation: 88 mA during the day, 128 mA at night, maximum: 535 mA
Operating temperature range: -20° C to 75° C, max. relative humidity 95%
Standing temperature range: -40° C to 80° C, max. relative humidity 95%
Sampling system: progressive
Synchronisation: internal
horizontal synchronisation frequency: 15.63 kHz / 15.73 kHz
Vertical sync frequency: 50 Hz / 60 Hz
Gamma: 0.45
Gain control: automatic
Signal-to-noise ratio: 52 dB
Electronic shutter speed: 1/50 (PAL) ~ 1/100,000 s
Product size and weight:
Product size (LxWxH): 77.9 x 71.3 x 70 mm
Weight: 320 g
Logistics:
Part number: RUF16413PT
EAN: 4260456384604
Packaging weight: 1320 g
Packaging size: 298 x 170 x 86 mm
 
Certificates:
IP69K waterproof and dust resistance test (for high pressure/steam cleaning, specific for road vehicles)
Salt vapour test certificate
ROHS
CE
E-Mark
Scope of delivery:
Colour rear view camera (9-32V)
20 metre connection cable with 4 pin aviation connector
Sealing rubber plate for mounting foot
Sealing ring for the cable gland
Screw set for mounting on the vehicle (2x for sheet metal/ 2x for PVC/ 2x with thread)
Installation instructions
| | |
| --- | --- |
| Item ID | 1255 |
| Manufacturer | CAR GUARD SYSTEMS |
| Content | 1 piece |
---